Our Mission
To provide Vets with PTSD a controlled, personable venue to see their favorite bands without the worry of large crowds, unexpected noises or the stress of a large venue!
Why
We're passionate about music and we believe those that fought for our freedom, our freedom to enjoy concerts, should have the same chance to see their favorite bands. We recognize that Vets with PTSD can't go to concerts at big venues due to the large crowds and the stress.
Who
From their experiences working with Vets, the founders of 10th Mountain Whiskey and Spirit Company, Ryan Thompson and Christian Avignon, recognized the need to provide controlled venues for Vets with PTSD to see their favorite bands. They believe music is a great healing opportunity and everyone should have the chance to see their favorite band live, especially Vets that fought for our freedom.
How
We're creating a nationwide
database of Vets with PTSD
, along with their top 3 favorite bands and their favorite genres of music.
We're creating a database of
War Angel Concert certified venues
 that understand the reasons why along with the logistics and challenges that come with hosting a War Angel Concert.
We're creating a
database of musicians and bands
 that understand the need for holding concerts at a controlled venue and that have the passion to play in front of a small group of our nations heroes.
We're creating a
donation platform
 where inspired people want to give America's heroes the chance to see and enjoy their favorite band play live.
We're managing all four databases to combine the Vets, the bands and the venues to create incredible, personable concerts that Vets with PTSD would otherwise not be able to see!
The team at 10th Mountain Whiskey and Spirit Company manages the day to day logistics. We count on our War Angel certified venues to donate the evening to the concert. We count on the band to donate their time out of appreciation for their audience. We count on in-kind donations to help with the ongoing financial challenges the organization faces. We also auction off 5 pair of premium tickets to the general public to help finance the concerts.
For each concert a list of Vets passionate about the performing band or genre of music will be created. From this list, 50 Vets will be randomly chosen (along with a 'plus one') to attend the concert. Additionally, 5 pair of premium tickets will be sold to the public.
If you're interested in volunteering at a show, please apply here.
When
Concerts will be held throughout the year. We'll keep an updated schedule on our concert calendar. Vets with PTSD must be signed up and in our database to have the opportunity to see a concert.
Where
Concerts will be held at certified War Angel Concert venues across the country. If you're a Vet that is in our database but can't make the show, we'll email a link where you can log in and watch the concert live, online.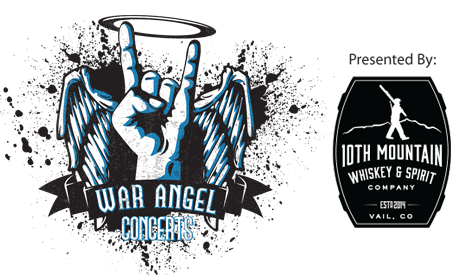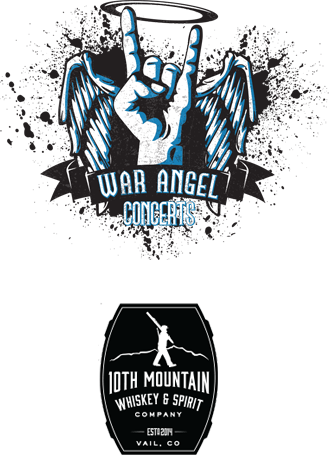 The founders of 10th Mountain Whiskey and Spirit Company have met many incredible active soldiers and Vets through their time spent at events, at the distillery and their tasting rooms. They love meeting them, sharing a little whiskey and swapping stories.
One of the founders, Ryan Thompson, has become close friends with Weston, a retired sniper from the 10th Mountain Division that served 2 combat tours. Ryan invited Weston to go see Metallica but Weston had to decline due to his PTSD. Weston said 'I'd love to go but not a chance my PTSD will allow me in that environment.'
Ryan, a passionate concert goer, went to the show and while watching it couldn't get it out of his mind that there had to be a way for Weston to see the band. After thinking about how he could make this happen, the idea for War Angel Concerts developed.
Ryan ran the idea by Weston and was encouraged to move forward with it. The idea started out with just one show, but then quickly grew to multiple shows throughout the year at multiple venues around the country!
Hence, the birth of War Angel Concerts, providing a controlled venue for Vets with PTSD to see their favorite bands.